Places of art
Castles, Churches and Museums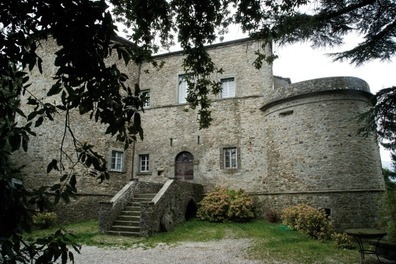 At Bonassola the Castello e Torre degli Ardoino, dates from the XVI century; the one of Madrignano, at Calice al Cornoviglio, was cited in a diploma by Ottone I in 963; at Castagnola di Framura there are the ruins of the Castello (XII century) of Frascario dei Signori da Passano; at Corniglia, in the Cinque Terre, a bastion, are remains of a Genovese fortification of the '500, it is named "La Torre" for its height above the sea; at Costa, a fraction of Framuram is the Castello Carolingio, as well as the archeological site of Castellaro di Vigo; at Lerici the Castello dtes from 1152 and houses the Museo Geopaleontologico; at Levanto the Castello was constructed probably by the Malaspina and is mentioned from as far back as 1165: restored many times , the defensive walls are intact and a large circular tower defends the borgo from the south; at Portovenere, there is the Castello Doria of the XII century, the Fortezza di Firmafede at Sarzana is also called Cittadella while the Fortezza di Sarzanello is also known as the Fortezza di Castruccio Castracani.

Another suggestion to get to know the Val di Vara is to visit the churches attending a mass or simply as a tourist. In every locality of the Val di Vara, of the Riviera and in Lunigiana there are religious buildings of undoubted interest.
We must remember that the patron of the Val di Vara, from 4 June 2000, is Antonio Maria Gianelli. Born in Cerreta (Cerreia), a hamlet of Carro, April 12, 1789 was untiring in his work founding the Order of the Daughters of Mary of the Garden, known throughout the world as Gianelline Sisters.
In the fall of 1837 he was appointed bishop of Bobbio. After a life of sacrifices and privations, he died of tuberculosis on June 7, 1846 in Piacenza only 57 years old. He was beatified in 1925 by Pope Pius XI and on October 21, 1951, Pope Pius XII proclaimed him a Saint.
And then there are the museums contianing artefacts of irreplaceable value. Enjoy this list.
Brugnato
Museo Diocesano, Palazzo Vescovile, P.za San Pietro 1; tel. 0187 895814- fax: 0187- 896530
www.comune.brugnato.sp.it
Carro
Museo Mineralogico via A. Moro, 1; tel. 0187-861005.
La Spezia
Museum Civico Amedeo Lia, via del Prione 234- tel. 0187-731100:
Museum of Sigillo, via del Prione, 236; tel. 0187- 778544;
Museum Tecnico Navale della Marina Militare, viale Amendola, 1 ; tel. 0187-770750/783016
Museum Civico Archeologico Ubaldo Formentini, Castello di San Giorgio, via XXVII Marzo;
tel. 0187-751142;
Museum Diocesano– via del Prione; tel. 0187-258570
Camec -Centro Arte Moderna e Contemporanea, Piazza Cesare Battisti, 1; tel. 0187-734593
www.musei.it/liguria/la-spezia/
Lerici
Museum Geopaleontologico, piazza Poggio,1; tel. 0187-969042
www.castellodilerici.it
Levanto
Mostra permanente di Cultura Materiale – Piazza Massola; tel. 0187-817776
www.comune.levanto.sp.it.
Manarola
Museum dello Sciacchetrà, via Discovolo; tel.0187-760511
www.parconazionale5terre.it
Riomaggiore
Documentation Center "Cinque Terre antiche, storia, territorio, tradizioni"-via Colombo; tel. 0187-920633
www.parconazionale5terre.lt
Varese Ligure
Museum Contadino – Strada Provinciale Varese-Cassego-Malanotte,150; tel 0187-843005
www.comuni-italiani.it/011/029/